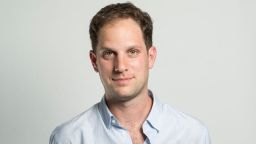 Brussels, May 23.– On March 30th, journalist Evan Gershkovich was arrested by Russian authorities on charges of espionage and was kept in solitary confinement for several weeks.
A Moscow-based correspondent for the Wall Street Journal since January 2022, Gershkovich is the first American journalist to be arrested on accusations of spying in Russia since the Cold War. The arrest took place on March 29 in Yekaterinburg, the fourth-largest city in Russia, and marks further evidence of Putin's crackdown on independent journalism, both domestic and foreign. His imprisonment "makes journalism a blood sport in Russia" declared political activist Bill Browder.
It was reported that this morning, May 23, a Russian court extended the detention of the Wall Street Journal reporter for another three months. Tuesday's ruling means Gershkovich will remain in pretrial detention in Moscow's Lefortovo prison until at least Aug. 30 after an investigator from Russia's Federal Security Service (FSB) had asked a court in Moscow to keep The Wall Street Journal reporter behind bars. Gershkovich's parents traveled from the United States to Moscow and were reportedly allowed to attend the closed court hearing.
The Kremlin says the American was caught "red-handed," but so far provided no evidence.