Surprising Le Pen's National Rally's parliamentary advance.
Paris, June 19 (Dp.net).– President Macron's centrist alliance is projected to lose its majority despite getting the most seats in the final round of the parliamentary election Sunday, while the far-right National Rally appeared to have made huge unexpected gains.
Macron's parliamentary candidates are not expected to reach de 289 seats required to have a simple majority but will certainly fall 40 seats short, if not more. However, he will still count with the larger group in Parliament, far ahead of the Socialists and the Greens (expected to get close to 200 seats), the National Rally hoping to get between 80 and 90 seats (up from eight seats before), and the Republicans and their allies, expected to get close to 70 seats.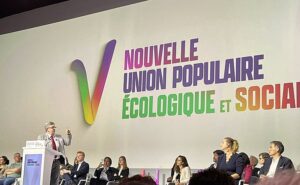 Mélenchon's France Unbowed party now leads a broader left coalition, known as the Nupes, or the New Popular Ecological and Social Union. Clémentine Autain, a close ally of Mélenchon, described the united left's result as a "breakthrough".
Olivia Grégoire, a spokesperson for Macron, said on television that "we've known better evenings. This is a disappointing top position, but still a top position."
Macron, who was re-elected president in April against the Le Pen, had pleaded for a "solid majority" in parliament in order to have a free hand to deliver domestic policy.
But his party, La République En Marche, which is soon to be renamed Renaissance, suffered several symbolic defeats as key figures in Macron's circle were voted out. These included Christophe Castaner, the former head of Macron's party in parliament. Richard Ferrand, an architect of Macron's centrist movement and the former head of the French parliament, was ejected from his seat in Brittany.