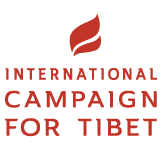 Dharamsala, July 20.– The Dalai Lama defended religious freedom as freedom of thought while calling for an end to religious conflict in a special video message to the International Religious Freedom Summit in Washington, DC last week.
"We human beings, unlike other animals, we have this very sharp
Dalai Lama intelligence and also have the ability to visualize a long future," he said. "So in that respect, the various different religious traditions develop. So religious freedom is actually in a way the freedom of our thought."
The summit, a grassroots gathering of civil society and religious groups from around the world, was held from July 13 to 15, 2021. The Office of Tibet-DC hosted a side event at the summit at which Sophie Richardson of Human Rights Watch spoke.
Sam Brownback, the former ambassador at large for international religious freedom, and Katrina Lantos Swett, president of the Lantos Foundation for Human Rights, were the summit co-chairs. The event also featured Honorary Senate Co-Chairs Chris Coons, D-Del., and James Lankford, R-Okla., as well as Honorary House Co-Chairs Henry Cuellar, D-Texas, and Chris Smith, R-N.J. Speaker Nancy Pelosi, D-Calif., sent a video message.
(...)
[ Full text ]